As manufacturer of continuous forms laser printer we like to be where our customers are. Therefore you do find us regulary on exhibitions, meetings and events. Talk with us and experience first hand the latest innovations from the world of fanfold laser printers.
PSi introduces new continuous forms laser printer for MICR applications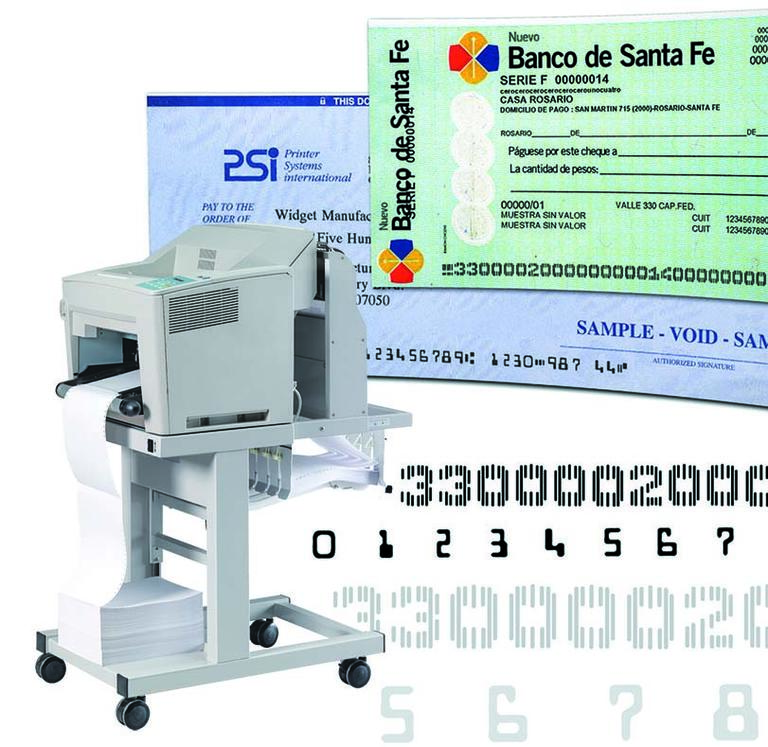 (Freudenberg, 20.03.19) PSi introduces new continuous forms laser printer for MICR applications
PSi Laser GmbH, a leading word-wide operating manufacturer of continuous forms laser printers, today announced a new product targeted for the MICR (magnetic ink character recognition) printing market. The printer PP 3034MICR offers the latest state-of-the-art MICR toner technology with 600 dpi print resolution.
Millions of checks, coupons and similar documents are still being printed every day and used as a means of payment in many countries around the world. Thanks to the MICR technology used, documents are particularly well secured against counterfeiting and fraud.
The new compact and affordable PP 3034MICR printer is ideal for quickly printing checks, coupons and other documents that require the printing of MICR coding lines. PSi is thus adding another product to its continuous laser printer family to print MICR coding lines.Together with the PP 4060MICR, PSi Laser now has two products that can serve this market in particular.
The printer PP 3034MICR excels in high printing speed, superior print quality, compact design and cheap printing costs and is best suited for safety-relevant applications.
Further detailed product features of the PP 3034MICR are
Print entire checks, vouchers and other documents in one pass
Highest print quality for MICR printing with 600dpi print resolution
A special toner cartridge for MICR toner, which can be easily exchanged by the user, guarantees increased safety and accuracy in the printing of MICR coding lines
Print speed of up to 90 checks per minute (5,400 checks per hour)
Paper width up to 304.8 mm (12 inches) with a print width of 279.4mm (11 inches)
The fonts CMC7 and E13B are already permanently installed in the printer, thus enabling easy connection to any software solution
If required, the printer can also be used with standard toner. This gives the user a high degree of flexibility when using this printer
Co-Reach 2017 - June 21-22 Exhibition Centre Nuremberg / Germany


...exploring new ways in digital printing ?
If you want to know more about our innovative technologie and the application areas in digital fanfold printing, please visit our booth in Hall 4A / 4A-106 on the subject "Digital Fanfold Laser Printing - New Ways in Production Printing". Find out more about our team, the technologie behind and application areas of digital printing in a casual atmosphere.